Samuel F. Eastman
Attorney at Law
Sam Eastman has been serving clients in the Russellville/River Valley Area since 2009. During that time, he has managed a variety of cases, including criminal defense, bankruptcy, collections, paternity actions, child custody, child support, personal injury, contract issues, property issues, liens, landlord-tenant relations, and social security disability. In addition to his public defender duties in criminal defense and juvenile justice, he has successfully helped many families navigate the difficulties and pitfalls of bankruptcy while keeping their homes and getting a fresh start on their hopes and dreams. He enjoys working in the juvenile justice system, and is proud of his work helping families through the difficult issues that arise when DHS gets involved.
His office is located near the heart of Russellville, at 3205 West Main Street, where he maintains his private practice in comfortable and convenient surroundings. The building is located on the West Main curve just west of Joplin Ave.
Sam clerked with a legendary attorney in Springdale for 2 1/2 years while attending the University of Arkansas School of Law, where he was exposed to many aspects of the legal profession in a great variety of cases, including the drafting of several appeals. Prior to returning to school later in life, he was a manager with a nationwide carpet cleaning company, a customer service company, and a life insurance company.
Sam considers Russellville his hometown, having spent the better part of more than 12 years developing a deep love and appreciation for this priceless area and its people. His wife, Phaedra, grew up in the area, and introduced him right away to its beauty and down-home goodness some 20 years ago. He first experienced the area driving across the beautiful Lake Dardanelle on the Highway 64 causeway. At that moment, he knew this was where he belonged. After seven years of marriage, he and his wife finally moved here with their three daughters, and soon welcomed a fourth. He drove a garbage truck for a local company until he could establish residency for school, a job which he still considers one of his favorites for a number of reasons. As a full-time student at Arkansas Tech, he worked full-time as a machine operator building cam-shafts in a local factory, where he was able to develop wonderful relationships with Russellville's hardest workers. After receiving a Bachelor of Arts from Tech, Sam attended law school, during which time he worked not only as a law clerk, but also as a bus driver for the University and a SafeRide driver, where he made sure students got home safely after hours. At the same time, he participated in law school activities and competitions, church callings, and the joy of family.
Sam knows the value of hard work. He is familiar with what it means to struggle through life, and how important it is that justice prevail. He will work just as hard to achieve the highest level of commitment to his clients and the legal profession.
Member:
Arkansas State Bar Association
Eastern and Western Districts of Arkansas (federal court)
Pope County Bar Association
2010: Secretary
2011: President
2012: Vice-President
Russellville CyberLions Club
Education
Juris Doctorate, University of Arkansas School of Law, Fayetteville
Bachelor of Arts, Arkansas Tech University, Russellville
---
Family, Faith, BBQ & them Hawgs!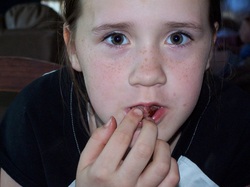 Sam and Phaedra have been happily married for nearly 20 years, and are the proud parents of four good, smart, and beautiful girls, who do all they can to keep him on his toes. They are active members of the
Church of Jesus Christ of Latter-Day Saints
, where they have both held various leadership and teaching positions. They are grateful for a kind and forgiving Heavenly Father who knows them well and loves them anyway.
Sam enjoys smoking ribs, pork, brisket, and whatever else he can get his hands on whenever he gets the chance, and his family enjoys eating it. Of course, along with the meat, a true barbecue man knows how to bring the sides! The world's cheesiest mac n' cheese, served up alongside sweet and thick baked beans and fresh, juicy cole slaw, served with stuffed bacon-wrapped peppers and exotic stuffed sausage fatties make the meal you beg to be invited back for.
While Sam grew up in the Tulsa area, you'd be hard-pressed to find a more ardent Razorback fan, especially in the fall!
​In addition to calling those Hogs, the Eastmans really enjoy getting out into the beauty that is Arkansas.
---